Have you ever heard the one about the contractor that doesn't have time for time management? Well, as ironic as that sounds, in real projects scheduling is one of the top three reasons that projects fail. ConstructionOnline Scheduling is designed to solve the challenge of quickly creating, sharing and editing your ever-changing project schedules. Success is now within reach.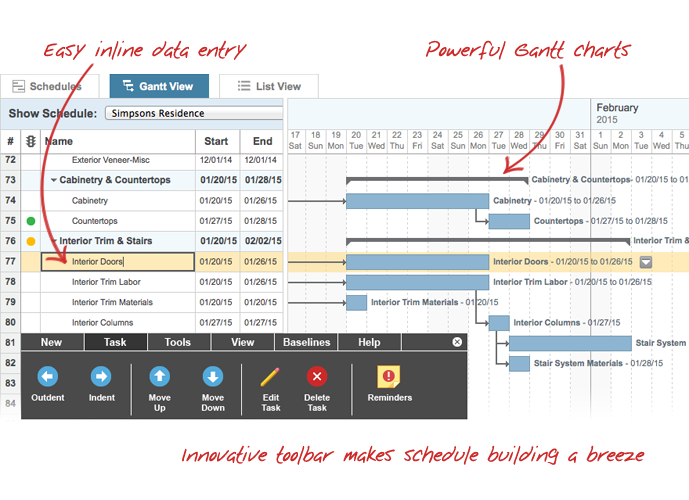 UDA ConstructionOnline™ Scheduling
New ConstructionOnline™ Scheduling brings the power and simplicity of advanced critical-path project scheduling tools to the web, allowing for seamless access and updates from the field or job site. Miscommunication between team members is a serious concern for most businesses, but with ConstructionOnline Scheduling, you can easily keep your whole team on the same page.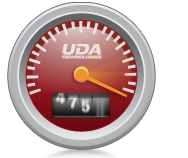 The World's Fastest Online Scheduling
Let's face it, your time is valuable and delays and sluggish performance from your project management software are aggravating or even deal-breaking for everyone on your project team. With other online scheduling tools you have to sacrifice speed and performance, but not with ConstructionOnline Scheduling. Performance is paramount and ConstructionOnline Scheduling was built from the ground up with speed in mind, plus the latest technologies to harness powerful client-side operations and inline data entry to offer the world's fastest critical-path gantt scheduling tools. No more waiting or delays. Did we mention that it's fast?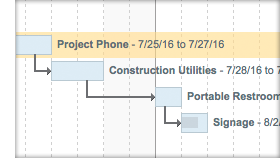 Easy-to-Use Gantt Charts
The Gantt Chart style of ConstructionOnline Scheduling keeps your schedule organized and easy to read. Not only is it clearly understandable, but it is also extremely easy to use. Edit start and end dates with a single drag of the mouse. Organize tasks into groups and unlimited levels of sub-groups to add further structure and definition. Highlight the critical path to identify the key tasks that need to be completed. For an additional level of organization, attach predecessors to assure that your assignments get completed in the most efficient order.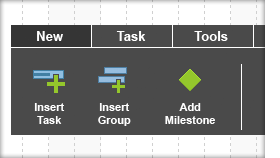 Simple Navigation and Data Entry
With the convenient toolbar, you can insert tasks, groups, and milestones with just a click of the mouse. You also have the ability to convert tasks into groups as well as move them up and down in your schedule. Editing your tasks has never been easier! You can easily use the dockable toolbar to edit and delete tasks or simply click on the task to change its information. To extend or reduce time frames, simply drag the left or right side of the task bar to the desired day and it instantly changes its start or end date. It's as easy as that.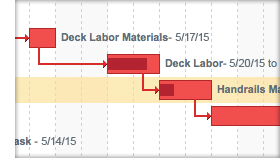 Powerful Tools and Advanced Options
Just because ConstructionOnline Scheduling is the fastest and easiest-to-use web-based scheduling tool available, doesn't mean that it lacks advanced features for project management. With the option to set custom workdays and work weeks, add holidays, create copies and templates with the option to save or clear out durations, predecessors and percentage complete, and the ability to shift schedules forward or backward by a number of days, weeks, or to a specific start date, ConstructionOnline Scheduling is a veritable powerhouse of construction schedulers.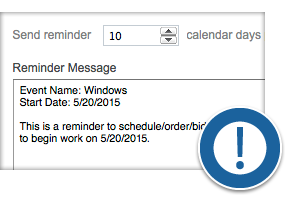 Resources and Reminders
Track and manage your project team with ease using Resource Assignments and Reminders. By creating a direct link between your sub-contractors, suppliers, projects, and schedules, Resources enable you to assign subs to scheduled tasks and automatically send email reminders.

Reminders provide extensive flexibility to schedule and send Planning, Start, and Custom Reminder emails to all of the resources assigned to a specific task in the schedule. And when schedules change, as they often do, those reminders will stay tied to the new revised start date and send accordingly, keeping your entire project team on plan and on task.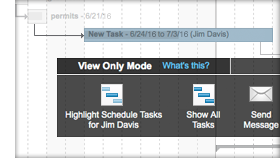 Special Views for Subs and Suppliers
View-Only Mode gives you the control to help your subs and suppliers quickly identify and focus on the tasks that apply to them.

Here's how it works. When you assign a resource to a scheduled task, ConstructionOnline automatically sets up a special view-only mode for that resource highlighting their specific tasks on the schedule. That way, when they log-in, ConstructionOnline will highlight their assigned tasks, show their name assigned as the resource, give them the option to show all tasks, or even contact you directly through ConstructionOnline if they have questions.
---
Getting Started and Frequently Asked Questions
You know ConstructionOnline lets you share project files between your entire team. But, How does ConstructionOnline work? Does it require any special software? Can I limit access to certain types of information, files, or projects? Can multiple team members login to a project at one time? Learn More