In the fast-paced construction industry, the ability to control change orders is important, and with new ConstructionOnline Change Order Management, you can easily create change orders complete with detailed descriptions, added costs, additional time, and optional images and attachments.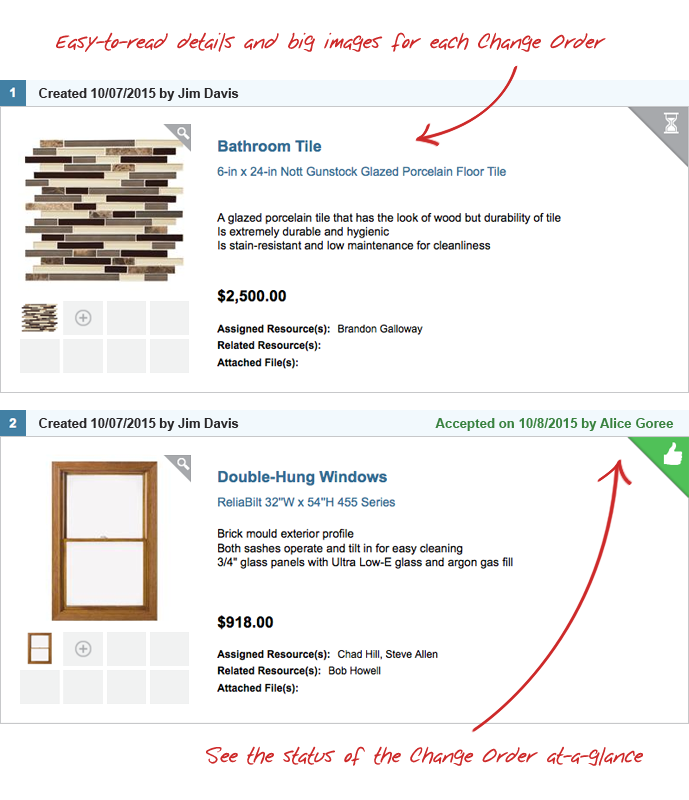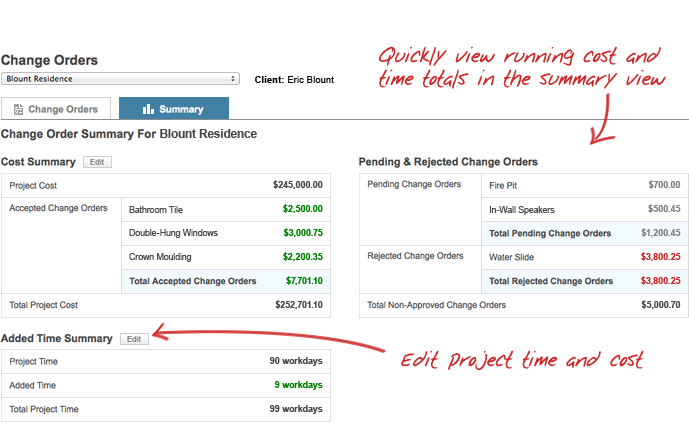 UDA ConstructionOnline™ Change Order Management
Getting someone to change the way they do things usually requires a few strong benefits, namely being clearly better, faster, and easier. On those three core principals, New ConstructionOnline™ Change Order Management offers clear advantages over existing systems. By giving you the power to list complete details, costs, additional time, notes, and images, ConstructionOnline Change Order Management is clearly better. By being available to create, approve and confirm the status of your change orders anywhere with a web connection, ConstructionOnline is faster. By giving your clients the ability to fully review their change orders, see running totals, and approve changes online, the pains of 'he said - she said' are a thing of the past.
Easily Create Change Orders
Easy is good, but quick and easy is even better. For a required responsibility that is typically a painful but crucial part of successful project management, ConstructionOnline Change Order Management simplifies and streamlines the process dramatically. With New ConstructionOnline Change Order Management you can quickly create change orders anywhere with a web connection, including name, detailed description, costs, additional time, attached files, images, and more. Once you enter the Change Order your client and related parties will be able to log into ConstructionOnline and review or approve accordingly.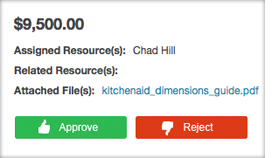 Simple Client Approval
Managing Change Orders is one of the top 3 major issues that can derail a construction project. ConstructionOnline Change Order Management offers your clients a clear and simple way to review and approve changes, all from the convenience of their computer. Never again will you hear complaints about clients not understanding what a change order would cost, or how much additional time would be required for completion. In addition, clients can review a running total of all Change Orders, including approved, pending, and declined orders, adding more clarity to the process without taking more of your time.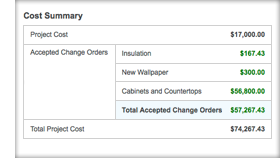 Change Order Summary Views
As projects progress, everyone (contractors and clients included) wants to know where the project stands currently related to Total Costs and Schedule changes. ConstructionOnline Change Order Management provides a clear, itemized breakdown of all change orders and summary views for original project costs, accepted change orders, declined change orders, and more. For scheduling, ConstructionOnline Change Order Management includes a running total of additional days added to the schedule for approved changes.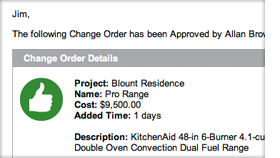 Confirmation Emails
Detailed Confirmation Emails in ConstructionOnline Change Order Management are sent to all related parties including the contractor, clients, subcontractors, suppliers and anyone else that you add as a related resource to the specific change order. This level of automated communication is another guarantee that there will be no surprises, delays, or miscommunications throughout the process. And when it's time to close out a project, there's less of a chance that problems relating to change orders will crop up, helping you avoid sticky situations.
---
Getting Started and Frequently Asked Questions
You know ConstructionOnline lets you share project files between your entire team. But, How does ConstructionOnline work? Does it require any special software? Can I limit access to certain types of information, files, or projects? Can multiple team members login to a project at one time? Learn More