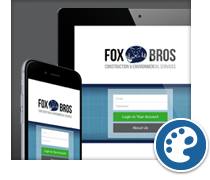 Custom Company Mobile App
Bring the Whole App Family Together Under Your Brand
ConstructionOnline introduces a new way to bring the entire award-winning family of mobile apps together in one easily accessible place - the custom company mobile app. Sharing different aspects of project progress is brilliantly simple with this app, available for iPhone, iPad, and Android devices. One tap on your mobile device screen and our entire suite of construction and project management apps will be your go to solution anytime and anywhere. Best of all, we bring all the apps together using something no one else does - your own company logo. Now when your clients and team log in to check on project progress on the go, they will see the only branding that matters - yours. It doesn't get any more custom than that.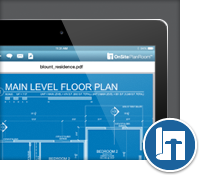 OnSite PlanRoom - Carry All Your Blueprints on One Device
Turn your iPhone, iPad, or Android device into your mobile blueprint manager with the OnSite PlanRoom app, a blueprint file sharing app that gives you access to your important construction documents from anywhere in a snap. View and share CDs with your team, make comments, and track changes through the entire progress of the project with this room planner app. Get even more options with the pro version of the PlanRoom app, which allows you to redline plans, annotate PDFs and add signatures. Search full text of your documents to find relevant selections that can then be highlighted right from your mobile device. Easily keep essential notes ready and at hand with the OnSite PlanRoom app.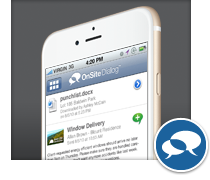 OnSite Dialog - Communicate Smarter
Whether using an iPhone, iPad, or Android device, the OnSite Dialog app will keep a live thread of conversation open so that you can easily communicate with your clients and your team members whenever you need to - while documenting everything. This communication and messaging app allows you to quickly check in on project progress by accessing the latest activity or you can use Dialog to make regular project announcements and post comments to keep everyone aware of the direction the project is moving in. Prevent misunderstandings by sharing files and photos for easy clarification beforehand. Filters make it easy to find specific dialogues and projects in the threads and you can answer client or subcontractor questions directly from the app. With no room for error in this business, you can rely on the OnSite Dialog app to provide a method for clear and efficient communication and history logs.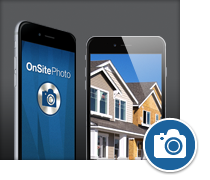 OnSite Photo - The Proof is in the Progress
Of course you could sit down with your clients and explain to them how their project is coming along. Or you could quickly show them all the proof they could possibly want, with both the OnSite Photo and OnSite Video apps. OnSite Photo and Video apps allow you to update the progress of the projects right from your iPhone, iPad, or Android device. Snap quick, high quality pictures or record brilliant videos in the field or at the jobsite and immediately upload them from the apps to ConstructionOnline. Your clients and team members will be able to see right away what is happening with the project and can even provide you with instant feedback, without waiting for a meeting. Daily pictures and videos are perfect for documenting everything every step of the way, eliminating questions and reducing liability while keeping everyone well informed. Fewer surprises mean happier clients, which makes your job much easier and allows the project to proceed smoothly.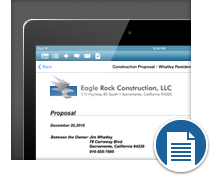 OnSite Files - Access Your Files from Anywhere
Meeting a client at the jobsite to show them firsthand the excellent progress you are making is a great thing. Realizing you left the office without a critical file that needs their approval as soon as possible is not. Now you are covered, with OnSite Files, a file sharing app that turns your iPhone, iPad, or Android device into the perfect access point for all of your construction documents. View and share those important estimates, purchase orders and proposals and even comment on them for future reference. Never before has it been easier to access those necessary assessments, invoices and recommendations on the go.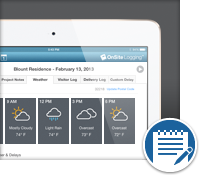 OnSite Logging - Daily Logs Revolutionized
Logging daily activity at a jobsite can be a tedious job, especially if you happen to be hauling around a physical daily logbook. But with the OnSite Logging app, you finally have a detailed jobsite manager solution right on your iPhone, iPad, or Android device. Tracking deliveries, visitors (both expected and unexpected) and project delays is no longer a chore when you can update and check jobsite status from anywhere. And because the logging app also serves as a weather and resource tracker, all the details you need for a jobsite can be found in your daily logs. Best of all, every project has its own separate digital daily log that is kept organized and in one safe place - ConstructionOnline.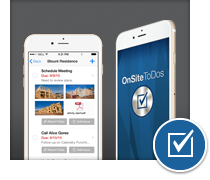 OnSite ToDos - Revamp Your To-Do List
Organization is absolutely vital to keeping any project on schedule and on budget. The OnSite ToDos app has a simple and easy structure that keeps you organized by allowing you to quickly add to do items for rapid completion. Using your iPhone, iPad, or Android device, assign items to relevant team members so that there are no questions about their focus and daily goals. Attach pictures and files to specific To Dos for necessary clarification. Easily focus on one specific project at a time with one central To Do list or manage several projects at once with our intuitive filters - either way, you can eliminate needless questions and interruptions.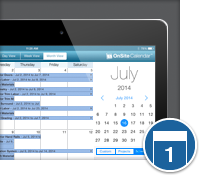 OnSite Calendars - Comprehensive Calendars
The OnSite Calendar app makes plotting a construction schedule incredibly simple. Eliminate confusion by organizing everything into one central calendar, or, if you prefer, manage multiple construction calendars at once. Keeping your team on track and up to date is no longer a challenge with all your activities managed from the only calendar app you will ever need. Customize every calendar to give you the functionality you want and use different colors to provide important at a glance details for your different projects and events. View event details with just a few clicks and assign resources to handle them. Repeating events provide even more organization, ensuring you never forget that monthly meeting or those bi weekly reports ever again. The OnSite Calendar app is the perfect solution for all of your daily, weekly, and monthly mobile calendar needs.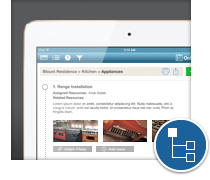 OnSite Punchlists - Outperforming Punch Lists
Keeping your team focused and on task is an easy process with the OnSite Punchlist app for iPhone, iPad, and Android devices. Wherever you are - at home, the office, in the field, at the jobsite - create, organize and manage detailed punch list items in a snap. Assign your subcontractors, suppliers and more to complete different items and attach files to provide necessary clarification. The Punchlist app is another way for your team to easily communicate and coordinate, making them more efficient and saving you time so that the project keeps moving forward. Punch lists can lead to faster job completions with accurate inspections and valuable quality assurance, which means less stress for you, your team, and most importantly, your clients.
---