About SplashworksKB
OUR HISTORY

Since 1990 we have been renovating many of the best homes in Forest Hill, North Toronto
and surrounding areas. We have renovated hundreds of kitchens and bathrooms and built a reputation for style, quality, integrity and reliability.

Few companies specialize in 100% turn-key kitchen and bath solutions and none can match our experience and sheer volume of projects!

OUR SERVICE

Our service concentrates on offering a total service approach. Everything from start to finish and from head to toe. We will provide you with a positive, stress-free renovation experience, and over a Kitchen or Bath creation that will exceed your expectations in every aspect.

A large part of what makes us unique, is the up front planning we do for every project. We go through every detail of the project with you in a 2-3 planning meetings. We help you choose every product and fixture you will require. We will even confirm the location and positioning of every light switch
and receptacle in the room.

This sort of attention to detail is what allows us to work through a project effectively, in a timely manner, and without having to consult with you at every turn.


Recent Projects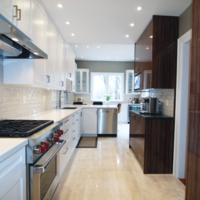 Kitchen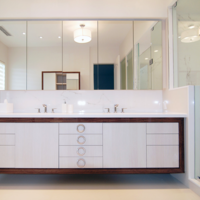 Bathroom
What Clients Are Saying About SplashworksKB
Amazing experience working with SplashworksKB from beginning to end. The challenge was to take a 1920's home, which was ''updated'' in the '80, and bring it into the 21st century. They had their hands full - but down to every last detail we ended on time and on budget - two fabulous bathrooms, a master ensuite we could have only dreamed of, a new gym with reinforced floors, all new electrical, insulation, windows, heating and AC....from design and concept to total completion it was a one stop solution for us. Every member of the SpalshworksKB team was so easy to deal with and very respectful of our privacy and comfort as we lived through the process. we would highly recommend using this company and will use them again as we start to make plans to renovate our main floor next! Jordana L Toronto, ON (August 2014)
SplashworksKB gutted our almost 30 year old master bathroom and created a lovely, spa-like en-suite. SplashworksKB will have to add a ''C'' to their name, because they re-did our closets as well. We eliminated a small walk-in and a traditional closet and opted for ''reach in'' closets instead. Customized to meet our needs. Cindy is very talented at helping to narrow down choices for colour, finishes and so forth. She helped to tie the master bath design with the new closet - so the entire design flows. Jerry and his team are very attentive throughout the process. I was also impressed and very appreciative of their efforts to clean up as they worked - entry and stairs were tarped while they worked, but cleared when they were not present... With all this work going on, we also replaced our carpeting on the entire floor, and Jerry helped to facilitate this. Work was completed on time and on budget. We would hire Splashworks again. Laura C Toronto, ON (July 2014)
My first experience with SplashworksKB was so successful that I worked them with again. They listened and heard what I wanted to achieve and built on my ideas. Their estimate was firm so there were no surprises regarding costs. Any questions I had were answered and addressed to my satisfaction. I was never ignored. They always came up with a solution. Their staff and the trades were tidy, courteous and trustworthy. Both renovations have stood the test of time. They look as good today (one done 4 years ago) as the day it was completed. Superb quality. I would use them again without hesitation.

As with any project, stay engaged in the process throughout the renovation that way there will no surprises, you can appreciate the workmanship and you will love it when the job is done. Joan C Toronto, ON (June 2015)
We hired Jerry and Cindy to design our main bathroom which badly needed a re-do. The two of them took us through the entire process from design to construction to follow-up in a seamless way and with minimal draw on our time. We particularly appreciated their suggestions and manner in which they steered us away from elements that we thought would work but which they avoided in our projects. We've been extremely pleased with the results and have recommended them to others in the neighborhood. Paul C Toronto, ON (May 2014)
I had Splashworkskb completely renovate my second floor bathroom and I can't begin to express how absolutely thrilled I am with the results.

Jerry and Cindy were consumate professionals and their entire team of demolition, plumbers, electricians, tilers and painters were truly first rate. I would like to single out Daniel who did the tiling.....a true craftsman!!!

The project was on time and on budget thanks to Margaret and her team!! Every detail was taken care of and made whole thing very easy for me. Thank you again Spalshworkskb. John S Toronto, ON (October 2015)