About
SeaBreeze Homes was established in 1993 by director Peter Wilson under the name of SeaBreeze Building Design and Construction. Before this time, Peter completed his apprenticeship and went on to further his qualifications by completing A.Dip.A.B.C and Cot Building Inspection.

SBH built the first home at Casuarina Beach in 2001, and relocated its head office to the estate upon completion. It set the precedent for the quality, architectural homes you see today in an area that has been at the cutting edge of home design.

Within a short period of time SBH has become one of the premier builders on the New Tweed coast. SBH has also branched out into building homes in Southeast Qld and down to Byron Bay. During this time SBH has built over 80 architectural homes and 3 medium density commercial projects for Multiplex, Resort Corp and the Augusta group.
Recent Projects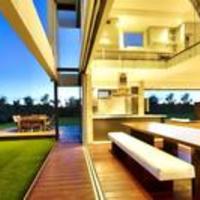 Seabreeze General
What Clients Are Saying About Seabreeze Homes
Hi Peter and Scott,

A very big thankyou for our new home in Salt. Katrina and I would just like to say how pleased we are with the process of the design, build and outcome.

It's such a daunting experience at first trying to select an architect and builder. I came away from our first meeting at the Seabreeze office feeling confident that I had not only found a designer and builder, but a combination that had a proven track record of working together.

During the early stages, I must commend you both for your communication and listening to the needs of the client. Peter, this carried through to the build and I must say this is one of your best qualities. Your communication and response time to queries was excellent. This is definitely something you need when building. The last thing you need is a sleepless night waiting to be able to speak to your builder.

The finished design and build process was great. Build time was less than originally quoted. Variations were minimal due to Peter being pro-active in ensuring all items were accounted for in original contract price. We are now in our new home and could not be happier. For others considering an Architect and /or a Builder, we would happily recommend Scott Carpenter Architect and Seabreeze Homes.

When I ask myself 'if you built again would you go with Peter and Scott?' To this my answer is yes. To think this after the whole process has finished, says it all.

Thanks for everything!

Shane and Katrina Visser VISSER RESIDENCE - Completion date November 2013
Peter,

A few days ago Anne & I received hand over of our new home at Salt Village. We were delighted with the result achieved through Scott Carpenter Architect and Seabreezehomes.

We purchased our land on SouthBeach Launch Day in July 2007 but decided not to build until my retirement in 2010. Unfortunately by then our Noosa property values had taken a dive due to the ongoing global and local financial crisis.

For two years we did the rounds of Display Homes in south east Queensland and collected newspaper advertisements from project home building companies offering all sorts of free extras, and due to our diminished financial position we thought we may build with one of them. At first glance they seemed to build remarkably affordable homes but this was an illusion. Aside from sometimes having to talk with a sales rep we would never see again, it seemed to us the cost of building a properly finished home was significantly more than the initially advertised skeleton cost. Also, we wanted an individual home designed to do justice to our fabulous beachside allotment with its north-easterly aspect.

Scott Carpenter Architect interpreted our ideas and produced the ideal house design for us with the aesthetics and functionality we described. Considerations such as flow-through ventilation, positions of the sun throughout the times of day over the different seasons, views to the yard and privacy from neighbours were thought of by Scott. His relaxed manner, practicality and intuitive architectural skills were reassuring. He produced drawings in meticulous detail which we have relied on many times for small but important everyday decision making e.g. "how big is the microwave space?"

As absentee owners we were in need of a Builder whose reputation for reliability and quality could be trusted. One who had experience building in the area, who knew the local Council requirements, would work-in with Scott Carpenter, and already have a successful track record. We needed regular progress reports communicated by email but with the handling of day to day decisions competently without us needing to drive from Noosa to Salt Village.

We picked the right Builder. Our new home was finished on time and the only cost variations were the ones we chose to take up. To our amazement our architect designed and quality built new home cost us no more than project homes of the same size !!!

For this .... Anne & I score Scott Carpenter Architect and Seabreezehomes a 10 out of 10.


Steve Renouf RENOUF RESIDENCE – Completion date June 2013