About Maisons Paragon Homes
Paragon Homes is one of the region's very few expert custom home designers and builders. In effect, all of the homes we build are fully customized to meet our client's needs and budgets. Unlike most custom home builders, we are fully capable of starting from scratch and designing the home of your dreams. And when it comes to budgeting, planning and building, our proprietary construction project management process ensures you will get the best-built home for the least amount of money.

We are true custom home designers and builders. As you browse through our photo galleries you will notice that no two homes are alike as we design most of our custom homes from scratch for our clients. The result is a unique home that reflects the needs and wishes of our clients to the fullest, and that exploits the location and vistas to maximum effect.

We provide economical, value-laden home packages – not just walls and lumber, with one of the most complete kits available in order to eliminate surprises. Design possibilities are unlimited. You can choose from one of our models or we can design something for you from scratch. Our homes feature a unique R-32 wall system to provide you with maximum insulation and air leakage performance. We also use exclusive Weyerhaeuser framing and structural materials because of their performance and their environmental stewardship.

How We Do It

Our process eliminates the general contractor. GC's make a profit on everything related to your project, from the simplest piece of lumber to the most expensive plumbing fixture. By eliminating the GC, we eliminate unnecessary costs, thus freeing up your budget. All labour elements - framing, plumbing, mechanicals, electrical, HVAC, finishes - are taken to tender on your behalf to ensure the best possible trades at the best prices, and we review these in tandem with you to make the best choices. What's more, you are granted unparalleled freedom in shopping for finishes such as appliances, flooring, light and plumbing fixtures. These are quoted directly to you from the supplier of your choice, as opposed to a GC who directs you to a sole supplier and marks up all the costs.

We generally save our clients in the order of 15% to 25%, net of our fees by eliminating the General Contractor. And our process grants you more freedom in shopping for finishes and appliances, controlling your budget, and seeing where your hard earned money is going.

http://cdn.maisonparagon.ca/administration/ckeditor/ckfinder/userfiles/files/Paragon Comparison Chart R2.pdf
Recent Projects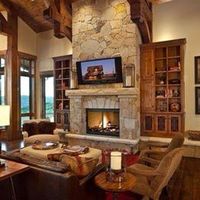 Custom Homes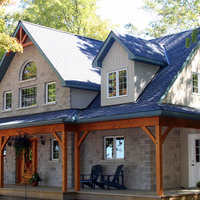 Custom Homes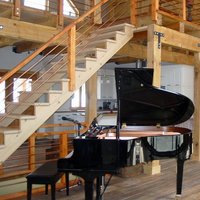 Hybrid custom homes by Paragon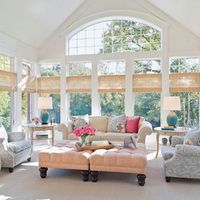 Paragon custom Additions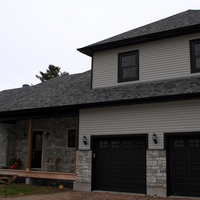 Model Homes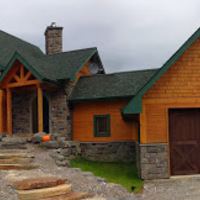 Custom Hybrid Model Home in Low Quebec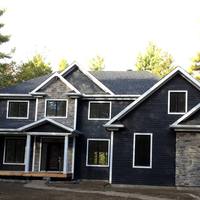 Paragon Custom Home package-Kit in Chelsea Qc.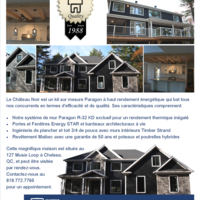 The Black Castle
What Clients Are Saying About Frank Murray
Read all Testimonials @
http://www.paragonhomes.ca/custom-home-testimonials.php F.Murray
We built a home using Paragon project mgt services in 2015 and are very satisfied. We received guidance throughout. Even after the project was finished we never felt on our own. I can call Frank 7 days a week and he's there to answer questions or help solve a problem. The relationship is like a marriage. We argued, we stressed, and we got it done. We now have our dream home and no horror stories to tell. The only advice I would offer is no matter how good the PM is (and Paragon is good), remember that the client makes the final decisions. Sometimes we disagreed but Frank is thick skinned and has his clients interests at stake. Paragon provides a great budget planning guide but you need to read it thoroughly. The feedback we gave Paragon is to explain up front that some items are not budgeted for as well as they could be (lighting fixtures, waste removal, water softeners, etc.). Also who is doing certain finishing wasn't clear. We ended up installing door handles, door strikes, heating vents etc ourselves - although this is easy work. To be fair, Paragon is very receptive to feedback. However in terms of holding contractors accountable, these guys are strong. Everything is inspected by Paragon. There is a lot of work involved by the client as well but I will certainly recommend these guys - they're not out to cheat you and they represent your interests well.

Neil Parry
In late 2008, my husband and I decided to go ahead and built the house of our dreams.

We brought our napkin drawing to Paragon Homes and told Frank to take the project by the reins.
Frank managed to put together a plan to bring our dreams into reality. Frank's planing and ideas have allowed us to build a home that has enhanced both our lives and our lifestyle.

Ben's designs and artistic flare put a picture to our dream home. He was flexible and approachable and and came through with last minute changes at our request.
We also appreciated Nicole's work behind the scenes for signing of contracts and keeping the paper trail in order.

Then, there's Dan Bergeron, our Project Manager. Where do we start?
Dan is very professional, knowledgeable and made sure that the clients needs were #1. During the construction process, unforeseen challenges and obstacles are inevitable. Dan always managed to find a solution for each situation that presented itself. Dan managed all the trades seamlessly and kept them happy and most importantly kept us happy.
Many parts of the construction process were so stressful but Dan always came to work with a smile on his face and kept things light-hearted when he needed to.

We can never repay him more for the work that he's done as he has put in more than just his time and effort.
At the end of the day, Dan will do whatever it takes to make his client happy! Dan has become a good friend of ours. He is a very genuine person with the biggest heart. He is very helpful, likable and fun to be around. We can't say enough about Dan!


Thanks to the Paragon Team, we love our house!


Julie & Steve Mann Ottawa Police
Look who built with Paragon!

We used the project management services of Paragon Homes of Chelsea Quebec in the construction of our home near Low, Quebec during 2005 and were satisfied with the work accomplished by the company.

This project management did not replace our responsibility to be actively engaged in overseeing the construction and related fiscal and administrative matters.

However, this service assisted us in ensuring that the project started as planned in the early summer, and proceeded to completion with only a limited delay in the late fall.

For anyone who cannot fulfil this function personally, the service offered by Paragon Homes is well worth considering.


The Rt. Hon. Joe Clark, P.C., C.C.
Eric from Denholm
New Home Construction
We hired Pargon to help design and build our new home because of their willingness to go above and beyond the services of most contractors. They have a unique option for allowing the customer to be the general contractor and have control over the type of materials being used to build the house.
Paragon did an excellent job working through many design iterations and 3D renderings to help us finalize plans before construction. They were more than accommodating for any change orders throughout the process and quick to help resolve any issues with contractors or materials during the construction process. They continue to offer post build support to ensure a satisfied customer.
I'd recommend Paragon for any type of construction project.

Read more at http://trustedpros.ca/company/paragon-homes#X0M8MQ4rX02Yv6vW.99 Eric Ramsden
Julian from Ottawa
Front Addition Kitchen, Living Room, Dining Room, Entrance
Overall, we are very pleased with the final results of our project. Completing a major renovation during the winter months is never an easy task, but Paragon Homes did a great job of ensuring that everything was delivered on time, as per specifications. Despite the freezing cold, the crew showed up every morning, bright and early, ready to work with a smile on their faces.
Do not hesitate to hire ''Paragon homes'' for your next Reno!

Read more at http://trustedpros.ca/company/paragon-homes#X0M8MQ4rX02Yv6vW.99 Julian Ottawa
''Your team at paragon and contractor are the best as I have checked out and that is why we went with you. I get pitched 20 deals a month from sleek business types to have access to my clients cash, but ultimately after all the financials and numbers are checked, I go with my gut feeling on the security and skill of the individuals at hand. In this case you are the clear cut winner in my mind on (1) Quality of materials, (2) Organizational Skills, (3) Experience Building and PMing, and (4) Flexibility to meet our individual needs and circumstances. I like doing business this way, and of course your frankness and your no BS way of contrasting choices at hand are a bonus that's allowed us to shake and sign on the dotted line. My wife and I were extremely pleased and impressed by your scheduling chart yesterday (extremely!!!) and of the excellent plans made by you and Ben..''

Claude Gauvin, Masham, QC cgauvin@pngmanagement.com
''Regarding the Paragon Kit Home package, Monika and I are extremely happy with the products supplied to date, just as you are proud of providing them. The wood, windows, doors, shingles and aluminum included in the Paragon Kit have all been of the highest quality without a doubt. In my eyes it is the little things such as the triple levers on the windows that stand out and define the products in the Paragon Kit as a very high quality product.
As much as we can say good things about the Paragon Kit we can say just as much about our project manager Dan Bergeron. Dan is truly a stand-up guy who handles every situation in an extremely honest and professional manner. From scheduling and inspection to the occasional conflict resolution with the trades, Dan has provided a service greater then our original expectations of a project manager.''
Sincerely,
Kevin & Monika, Cumberland, ON. KAlemany@stantec.com
To the Paragon Team,
We wish to thank Frank, Dan and the whole Paragon Team who helped us build our beautiful family cottage on Lac Sinclair in the glorious Gatineau Hills. This project was our 25th Wedding Anniversary gift to ourselves and we look forward to celebrating our special day in our new county home this summer.
After researching various building options and plans including Viceroy, Bonneville, Guildcrest and a private contractor, we comfortably decided upon working with Paragon Homes. Frank's enthusiasm, expertise and guidance in the early planning stages helped us to create the customized design we were looking for. We especially appreciated Paragon's project management style which allowed us the control and flexibility to be hands-on throughout all phases of the project. We felt that our needs were respected and met consistently from the beginning to the end of our project. Paragon knowledge, guidance, and good nature throughout the entire building process kept us at ease, especially through usual bumps along the way. Dan's expertise in scheduling and knowledge of the trades ensured quality workmanship during all phases of the building process and kept the project going forward throughout the very difficult winter months.Paragon helped us co-ordinate tasks performed by tradesmen while we enjoyed working on some phases of the project we chose to do ourselves. We are very pleased with the final outcome and we gladly recommend both the Paragon Kit and their Project Management approach to anyone considering building a home or cottage.

mike-brown@rogers.com
Mike Brown
Neil from ChelseaPosted: Oct 29, 2015
Custom Home Construction (project management)
We built a home using Paragon project mgt services in 2015 and are very satisfied. We received guidance throughout. Even after the project was finished we never felt on our own. I can call Frank 7 days a week and he's there to answer questions or help solve a problem. The relationship is like a marriage. We argued, we stressed, and we got it done. We now have our dream home and no horror stories to tell. The only advice I would offer is no matter how good the PM is (and Paragon is good), remember that the client makes the final decisions. Sometimes we disagreed but Frank is thick skinned and has his clients interests at stake. Paragon provides a great budget planning guide but you need to read it thoroughly. The feedback we gave Paragon is to explain up front that some items are not budgeted for as well as they could be (lighting fixtures, waste removal, water softeners, etc.). Also who is doing certain finishing wasn't clear. We ended up installing door handles, door strikes, heating vents etc ourselves - although this is easy work. To be fair, Paragon is very receptive to feedback. However in terms of holding contractors accountable, these guys are strong. Everything is inspected by Paragon. There is a lot of work involved by the client as well but I will certainly recommend these guys - they're not out to cheat you and they represent your interests well.

Neil Parry
Neil from ChelseaPosted: Oct 29, 2015
Custom Home Construction (project management)
We built a home using Paragon project mgt services in 2015 and are very satisfied. We received guidance throughout. Even after the project was finished we never felt on our own. I can call Frank 7 days a week and he's there to answer questions or help solve a problem. The relationship is like a marriage. We argued, we stressed, and we got it done. We now have our dream home and no horror stories to tell. The only advice I would offer is no matter how good the PM is (and Paragon is good), remember that the client makes the final decisions. Sometimes we disagreed but Frank is thick skinned and has his clients interests at stake. Paragon provides a great budget planning guide but you need to read it thoroughly. The feedback we gave Paragon is to explain up front that some items are not budgeted for as well as they could be (lighting fixtures, waste removal, water softeners, etc.). Also who is doing certain finishing wasn't clear. We ended up installing door handles, door strikes, heating vents etc ourselves - although this is easy work. To be fair, Paragon is very receptive to feedback. However in terms of holding contractors accountable, these guys are strong. Everything is inspected by Paragon. There is a lot of work involved by the client as well but I will certainly recommend these guys - they're not out to cheat you and they represent your interests well.

Neil Parry
We built a home using Paragon project mgt services in 2015 and are very satisfied. We received guidance throughout. Even after the project was finished we never felt on our own. I can call Frank 7 days a week and he's there to answer questions or help solve a problem. The relationship is like a marriage. We argued, we stressed, and we got it done. We now have our dream home and no horror stories to tell. The only advice I would offer is no matter how good the PM is (and Paragon is good), remember that the client makes the final decisions. Sometimes we disagreed but Frank is thick skinned and has his clients interests at stake. Paragon provides a great budget planning guide but you need to read it thoroughly. The feedback we gave Paragon is to explain up front that some items are not budgeted for as well as they could be (lighting fixtures, waste removal, water softeners, etc.). Also who is doing certain finishing wasn't clear. We ended up installing door handles, door strikes, heating vents etc ourselves - although this is easy work. To be fair, Paragon is very receptive to feedback. However in terms of holding contractors accountable, these guys are strong. Everything is inspected by Paragon. There is a lot of work involved by the client as well but I will certainly recommend these guys - they're not out to cheat you and they represent your interests well. Neil Parry