Kusser FountainWorks
Kusser Fountainworks (a division of Kusser Graniteworks USA) represents the sophisticated fountain construction technology developed by the European fountain and stone company, Kusser Granitwerke GmbH. In 1989 the first Kusser fountain was installed in the United States. Since 2004, the successful acquisition of the former US distributor has established Kusser USA as a permanent presence in the US market.

Next to developing fountain construction technologies we have perfected several processes for new design applications:
- Floating spheres, Floating rings, discs, wheels
- Prestressed granite
- Prefabrication in granite for individual designs

Our resources:
- Quarries which we own and operate
- In-house engineering department
- Factory direct office in Tampa, FL
- German high-tech production
- Professional construction supervision

Further strengths of ours are:
- Complete solutions to meet your needs
- Expedited assembly
- On schedule completion

Kusser Graniteworks USA is a subsidiary company of Kusser Granitwerke GmbH. This German family business, which has successfully been run by the owners for more than three generations, has almost a hundred years of history in the quarrying and processing of natural stone and currently employs about 100 people. A long-standing tradition of craftsmanship, state-of-the-art machinery maintained by the firm's own specialists, and internal planning teams of engineers and architects have helped establish Kusser as one of the leading companies in the natural stone industry.

Kusser Graniteworks USA and Kusser Fountainworks are managed by Josef Kusser, Jr., President and Jeff Castle, Executive Vice President. Josef and Jeff have over 30 years of experience in fountain design and fabrication.
Recent Projects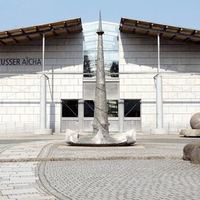 Kusser FountainWorks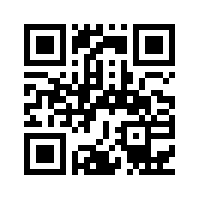 Kusser USA QR Code
Baylor Medical Center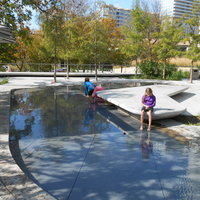 Dallas Museum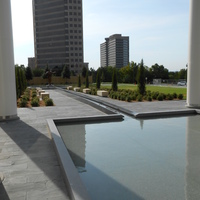 St. Francis Medical Center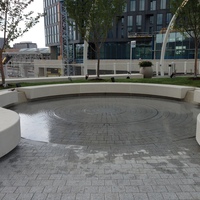 Tyson's Corner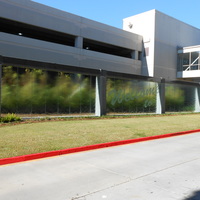 Baton Rouge Airport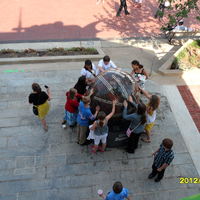 Ripley's Believe It or Not - Baltimore
What Clients Are Saying About Kusser FountainWorks
To Whom It May Concern:

I currently have the opportunity to work with Kusser FountainWorks on the Tiger 5 East Downtown Transit, Residential, Commercial Connections for the City of Houston since March of 2014, and I would like to express my appreciation for the excellent service that they have provided. Up to date that we have reached 70%advance.

As a Project Engineer for R. Miranda Trucking & Construction, LLC, the General Contractor selected for this project, I have been working closely with both Jeff and Todd to make sure that the needs and standards for the City of Houston are not only meet but exceed. The Tiger 5 Project is a challenging renovation of the Guadalupe
Plaza Park located east of Downtown Houston that includes the Proposed Splash Pad that is basically the heart of the project in which Kusser FountainWorks have provided their design, experience and professionalism on this enhancement.

Through the project I felt that Kusser FountainWorks is acting as a partner not only with the Owner, but with each member of our construction team. Not only were RFI's, Submittals and Work Plans reviewed and returned quickly, but both Jeff and Todd regularly visit the job site to help coordinate any required field changes as they arise so that design intent is uphold while ensuring that our construction schedule is never compromised.
The cooperation and collaboration that Jeff, Matt and their office team brings to the table everyday is greatly appreciated. The open communication and team effort has resulted in a truly enjoyable working experience for everyone involve. I look forward the opportunity to work with Kusser FountainWorks again. Enrique Allende
On all accounts I was impressed with Kusser.

Our fountain was very detailed and was custom designed. We had a lot of things to work through and it was a team effort but Kusser was always accommodating to our needs and the desired effect of the product. Our project was bid and the cost met the budgetary needs. The craftsmanship is AMAZING.

I dealt with Jeff Castle and it was a very good experience. I would enjoy working with them again if the opportunity presented itself. I highly recommend them.

Sharon Rose Nissley
Interior Designer
NCIDQ #019625
Richard L Johnson Associates
Architects -Engineers- Interior Designers
4703 Charles St.
Rockford, IL 61108 Sharon Rose Nissley