Make Life Awesome
Centennial 360 has been Making Life Awesome for our clients, our co-workers and our Saskatoon community since 1967. We do this by creating a remarkable client experience while designing, supplying, building, servicing, maintaining and renovating homes in and around Saskatoon.

Home ownership is a never ending design, build, maintain, service, renovate and then do it all over again cycle and can be frustrating at times. Our 5 divisions, Centennial 360 Plumbing, Heating and Air; Centennial 360 Electrical; Centennial 360 Renovations; Centennial 360 Custom Homes; and the Centennial 360 Do-It-With-Help Home Centre were created to ease this frustration and help you take care and improve your home.

At our 20,000 square foot Do-It-With-Help Centre, we have the products and expertise to help you create, improve, repair and maintain your home yourself, but not all alone! We have certified NKBA certified designers in store to help with your product selections and qualified tradespeople on the floor to help you with your more technical issues. We even offer a best price guarantee on our products. We have the best products, the best prices and the help that you need all in one place. And, if you can t take it on yourself, we ll come do it for you!

Call or come see us today! We are excited to show you how we can help make your home and your life a little more awesome!

Recent Projects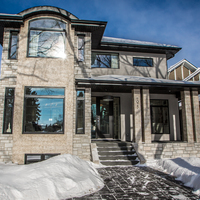 1025 15th Street East
What Clients Are Saying About Centennial 360
"Paige and I have been wanting to design and build a house since we can remember. We would drive around town looking at houses we liked and made note of the different architectural features that caught our eye. We came across the custom duplex that Centennial built on 2nd St. E and had a look one day during an open house. Needless to say we fell in love with the style and architecture of the house, and wanted to inquire about a custom single dwelling home in a new area of the city to move our new young family into. We were put in touch with Michael Shaw and Rebecca Simpson at Centennial Custom Homes and immediately began brainstorming ideas. The level of knowledge and enthusiasm that Michael and Rebecca brought to the table really made the design process enjoyable. Having a nice meeting room right beside their showroom made the process of choosing all of our finishing products that much easier, as everything was right in front of us to view. If we ever wanted something different than what was in the showroom, they had a very friendly and knowledgeable sales staff to find the products we wanted. We are currently half way through our build and excited to see the final product. We would highly recommend to anyone looking to build a home to talk to Michael, Rebecca and their team at Centennial 360." Matthew and Paige Lofstrom
Centennial 360 Professional Organizations

Get in Touch with Us
Please fill out the forms below to submit your questions and comments.

Your information has been submitted!
Please fill out the required information.
Please use a valid email.