Punch lists are a constant in construction. Whether your team is completing a project or performing mid-phase inspections, punch lists and quality control go hand-in-hand when it comes to delivering a high quality project on time and on budget.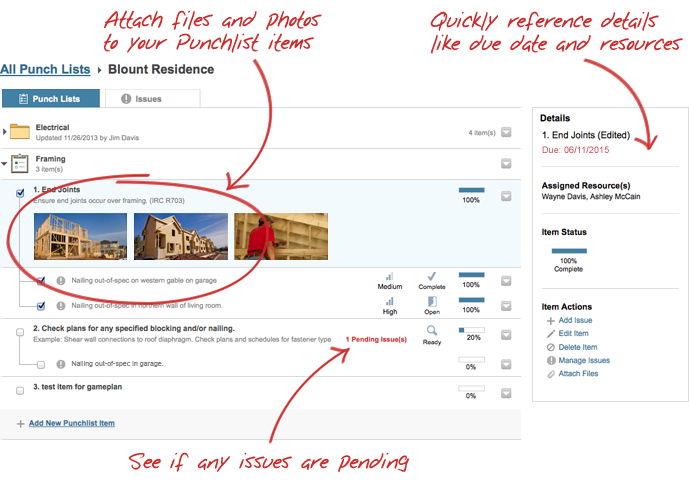 UDA ConstructionOnline™ Punch Lists - The New Industry Standard
New ConstructionOnline™ Punch List Management includes a powerful combination of cloud-based desktop construction software and mobile applications for iPhone, iPad, and Android. These tools paired together can enable seamless data entry from either the office or jobsite, allowing you and your team to quickly itemize detailed lists of concerns, document items with photos and video taken directly on the jobsite, and assign tasks to multiple divisions of your team.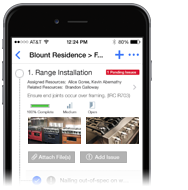 Cloud-Based Punch Lists and Full Mobile Integration
Without the right tools, Punch List Management can be a painful process, especially when it comes down to the end of a project. In many cases, you are dealing with dozens of subcontractors and suppliers needing to work seamlessly together to complete the project, relying on you for specific details and information about their responsibilities. New ConstructionOnline™ Punch List Management has been designed to empower you and your entire team to quickly create, document, photograph, and assign punchlist items from the office or jobsite. Harnessing the lastest technologies in cloud- and mobile-based systems, ConstructionOnline Punch List Management is the new industry standard in quality control construction software designed to build your business.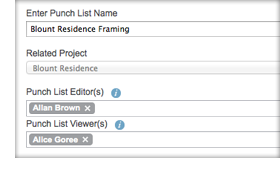 Easy to Use, Easy to Understand
As the world's fastest growing online construction software, ConstructionOnline is a product of it's own success. A big part of the momentum is a result of focusing on the importance of designing products that are easy to use and easy to understand. Not just for you, but for everyone on your extended project teams needing to access ConstructionOnline via the web or through an iPhone, iPad, or Android device directly from the jobsite. ConstructionOnline Punch List Management makes it easy to quickly enter items and issues, add optional details, photos, videos, and more. On top of that, you can track your progress with the click of a button - easy to use, easy to understand.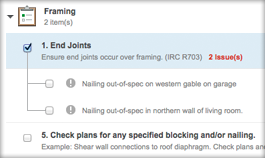 The Perfect Combination of Power and Simplicity
For those projects requiring extra attention, ConstructionOnline Punch List Management offers powerful tools to add structure and detail to your quality control needs. Under each project, optional folders and subfolders of items can be structured to best address the requirements and scale of your project. These lists can be defined and organized by phase, classification, date, draw, or any other grouping that mirrors the structure of your project. In addition, items can have optional sub-issues assigned in cases where an individual punch list item requires multiple improvments or resources.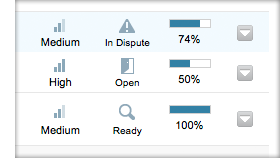 Track Priority, Status, and Percentage Complete
Keeping track of the staus of your Punch Lists is a critical factor in successfully completing projects on time and on budget.

ConstructionOnline Punch List Management allows you to easily track Priority, Status, and Percentage Complete of every individual punch list item and issue. Quickly share or print punch lists allowing your team to remotely adjust status or add notes from the convenience of their iPhone, iPad, or Android device.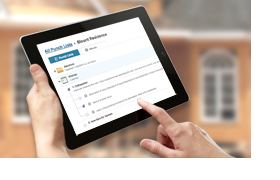 Empower Your Clients
In certain situations you might want to allow your clients to directly enter punchlist items or contribute to a final walk-through list.

ConstructionOnline Punch List Management gives you the unique ability to empower your clients with access to a specific project punch list through the convenience of their iPhone, iPad, or Android, while still keeping final control in your hands. This balance of client and professional input can ultimately produce quicker project resolutions and higher overall satisfaction. After all, client satisfaction is the name of the game.
---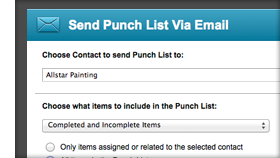 Powerful Tools for Quality Control
As we all know, getting started on the right foot is crucial for success, and pre-emptive and early quality control can make a significant difference in the overall speed and quality of any project. ConstructionOnline Punch List management offers the ability to predefine comprehensive inspections lists that can be shared with field personel in a constant flow of specifications, best practices, and inspections that significantly improve the quality of deliverables, while also reducing the time and expense required to redo or repair incomplete or unsuitable work.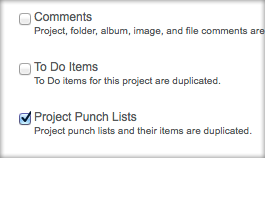 Redefine Quality Assurance
By using ConstructionOnline Punch List Management to set up standardized quality inspections at different phases of your projects, you can dramatically increase quality assurance results and also reduce issues that might arrise in the completion stages of construction.

Get started by simply creating the series of stardardized inspection punchlists separated by phase, division, specialty, or any grouping, save the set of inspections as a template, create a new project from the template including the punchlist items, and then share the inspection lists with your field team so they can access them via their phone or tablets onsite.
---