Staying busy is great for business, but it can make communicating with your team and clients difficult. Convenient communication is the best solution for keeping everyone in the loop and allowing you to move your projects along smoothly. ConstructionOnline™ gives you not just convenient communication but a better way to communicate overall.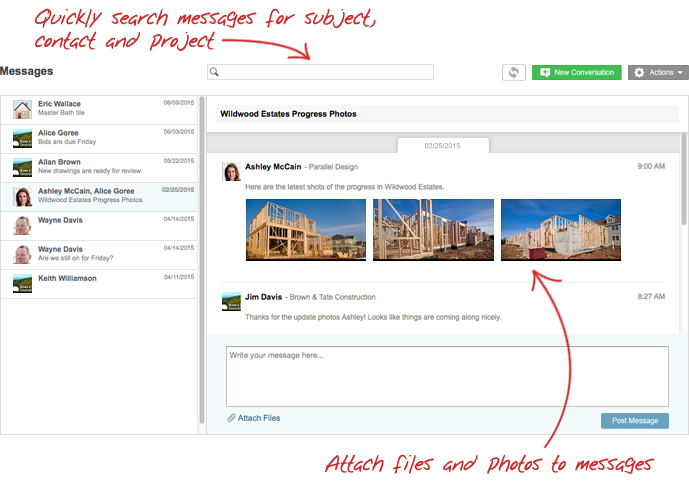 UDA ConstructionOnline™ Messaging - Communication Simplified
Finding the time to meet with clients and subs can be difficult. Messaging with ConstructionOnline™ makes it easy to communicate with clients and subs alike without struggling to find the time to sit down for a face to face meeting. When you send a message, the recipient is notified through their email. No more claiming they didn't get the message. And all the discussions being documented means you protect yourself and your business from faulty claims. Messaging helps to eliminate doubt about project decisions down the road. Messaging is streamlined with ConstructionOnline.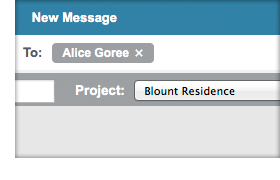 Organize Conversations by Project
Keeping all project discussions neat and organized will make your job easier. Good thing ConstructionOnline™ allows you to organize messages based on the project they are relevant to. No more worries about keeping files in a drawer to sort through or reading page after page of emails to find one thread. ConstructionOnline will keep all discussions related to your individual projects in one convenient place. And because it is ConstructionOnline you can reference those messages from anywhere you need to. Messaging makes keeping track of conversations and project progress that much easier.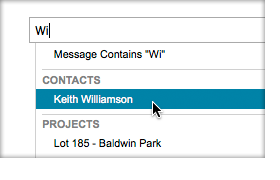 Easily Search Your Messages
There is no doubt that you will need to find an old message or discussion at some point. ConstructionOnline™ makes searching for any conversation a breeze. Maybe a question has come up and you need to track down a single message to find the answer. Maybe you need to reference the whole conversation. Whatever you need, the search bar makes it easy to find what you are looking for. Use your own keywords to search for a specific message or conversation, then choose from the list that is displayed. Messaging makes it easier than ever to track down a past conversation.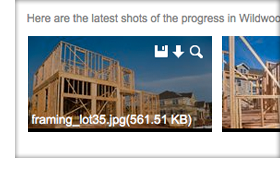 Attach Files and Photos to Messages
ConstructionOnline™ makes Messaging more effective. Prevent confusion and unnecessary delays by attaching files and photos directly to messages. Show clients exactly what is happening with the project. Ask subs specific questions without the worry of a misunderstanding. Attaching files and photos makes your messages more specific and more effective, eliminating the need to address the same question over and over. Everyone is kept in the loop and wasted time is a thing of the past. Saving time means you can focus on the important things to keep your projects moving forward.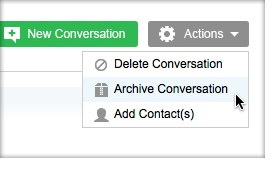 Archive Conversations for Easy Reference
Losing messages is never a worry with ConstructionOnline™. Even when a conversation is finished, it can be archived for easy future reference. Archiving your messages for the future offers an extra layer of protection against possible discrepancies later on. Additionally, ConstructionOnline eliminates the need to start a new message to cover the same topic. If a line of discussion needs to be opened again, simply reactivate the conversation with a few clicks. Messages can be archived and reactivated as needed. Archiving messages will keep them on hand as long as you need them.
---
Getting Started and Frequently Asked Questions
You know ConstructionOnline lets you share project files between your entire team. But, How does ConstructionOnline work? Does it require any special software? Can I limit access to certain types of information, files, or projects? Can multiple team members login to a project at one time? Learn More